In celebration of the upcoming release of Star Wars: The Complete Saga on Blu-ray, Lucasfilm, Major League Baseball and Stand Up to Cancer have come together to "Use the Force for Good."
Each team listed below is hosting a Star Wars-themed game which will include Star Wars in-game entertainment, photos with Star Wars characters and much more! Additionally, both Star Wars and baseball fans can use the Force for good by purchasing a special ticket package from select teams that will benefit Stand Up To Cancer.
A limited quantity of these packages are available,
so don't be lured to the dark side and get your tickets now!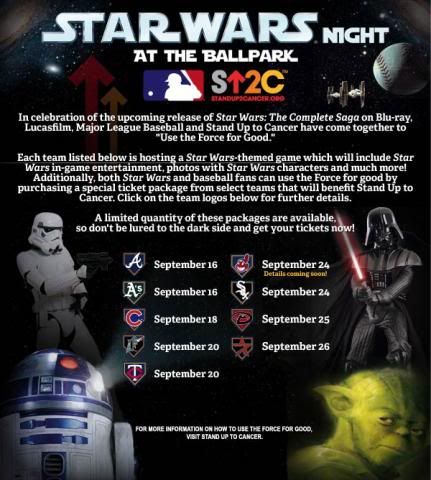 Head over to
MLB.com
and click on the teams for more info
<!-MONUMETRIC [BTF|Pos 5] D:728x90 T:728x90 M:320x50,320x100 START-> <!-MONUMETRIC [BTF|Pos 5] D:728x90 T:728x90 M:320x50,320x100 ENDS->